If you're looking for natural laundry products that work, you're in the right place!
---
**This post contains affiliate links, and I will be compensated if you make a purchase after clicking on my links. I will NEVER recommend or promote products I don't personally use and love!
---
When we started being more intentional in our purchases, we took a look at the chemicals we were using in our home. Changing our laundry detergent to get rid of harmful chemicals and fillers was one of the first steps we made.
Natural Laundry Products for the Washing Machine
While I started with making my own detergent, I recently fell in love with the ease, cost, and convenience of these Grove Collaborative Laundry Powder Packs. I get the Lavender and Rosemary scent, which is light and refreshing!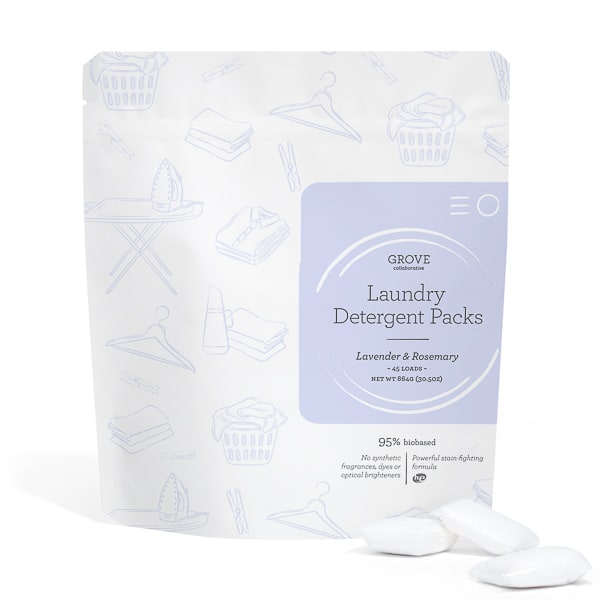 My favorite thing about Grove is they deliver my environmentally friendly cleaning supplies right to my door every month. And I can edit my order every month to make sure I'm only getting the cleaning supplies I need.
If you're like me and enjoy the convenience of home delivery at a reasonable price point (Grove competes with local grocery stores on their brands), you might want to give Grove a try!
Once you've got the washing part taken care of, it's time to hit up the dryer!
Natural Laundry Products for the Dryer
Did you know that dryer sheets might actually be costing you money on your electric bill?
Yup.
The same chemicals in dryer sheets that make your clothes soft also clog the lint trap, causing you to use more energy to dry your clothes.
Also, with your skin being your largest organ, and your clothes covering most of your skin on a daily basis, do you really want to be putting potentially harmful chemicals on your skin?
I don't.
So we started using wool dryer balls, like these:
There are a few really cool things about these dryer balls.
First, I noticed immediately that my clothes took less time to dry – by about 10 minutes. That doesn't really seem like a huge deal, but when you realize how much energy your dryer uses, and how often you use it, it adds up to big savings!
Second, I can still scent my laundry by adding my favorite essential oils to the wool dryer balls. I love adding lavender or even tea tree oils to the balls for a light natural scent.
Finally, wool dryer balls last a really long time! I didn't need to replace them for nearly 3 years! I don't know about you, but that adds up to big savings in our household….we do a LOT of laundry!
How to add scent to your wool dryer balls
If you want to have your laundry lightly scented, I recommend adding pure, organic essential oils to your dryer balls. I add about 3 drops each to 3 different dryer balls before I add the clothes.
Lavender is my favorite oil to add to the dryer balls, because it has a nice, light scent that promotes calm!
I always buy my oils from Plant Therapy because they carry organic oils (I appreciate that they actually certify their oils!), they ship right to my house, and they are competitively priced!
Lavender Organic Essential Oil 30 mL
Lavender is perhaps the most well-known of the essential oils and for good reason. Lave… [More]
Are you ready to start using natural laundry products that work?
Do you think you've give Grove a try?
What about wool dryer balls?
I'd love to hear your experiences! Please leave me a comment and let me know what natural products you love!